Laser Hair Reduction is the process of hair removal by means of exposure to pulses of laser light or high energy light that destroy the hair follicle .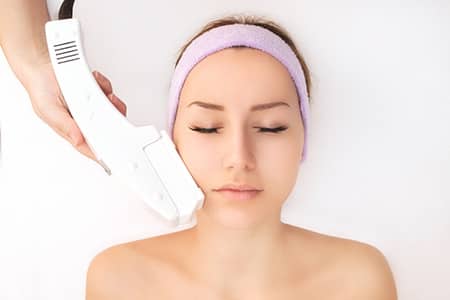 Super Hair Removal (SHR) is the latest technology for the removal of unwanted hair. Safe and virtually pain free, a SHR treatment gently heats up the target hair follicle to cause terminal damage and prevent hair re growth . This makes it the safest hair reduction option for darker skin types and most effective for fair haired clients as the hair and skin are not exposed to a single high energy pulse which can cause trauma to the skin with a high melanin count.
SHR is the safest method of light based hair reduction for all skin types.
Intense Pulsed Light (IPL), is a way to improve the colour and texture of your skin and remove unwanted hair. IPL is most commonly used as a hair removal tool but also to remove spider veins, improve skin texture and pigmentation, help reduce acne and reduce some of the signs of sun damage.
A IPL hand piece is passed across the skin delivering a spectrum of light to the area which targets the melanin. The light travels through the skin until it reaches the hair root. This is where the highest concentration of melanin is located. As the light is absorbed the hair and the root is heated, destroying the papilla which produces the hair .
Not all hair colours and skin types provide effective results The ideal skin and hair type is fair skin with dark hairs as the light is attracted to melanin. Those with darker skin cannot use IPL as it may discolour their skin.

SHR & IPL are most effective with a course of 6-8 treatments .

Hair Removal treatment prices …..
Upper Lip £45 per session / £200 6 sessions
Chin Area £45 per session / £200 6 sessions
Cheeks £45 per session/ £200 6 sessions
Chin, Jaw line & Upper Lip £90 per session/ £500 6 sessions
Eyebrows/Hair between Eyebrows £40 per session/ £195 6 sessions
Full Face (Female) £130 per session/ £700 6 sessions
Under Arms (Female) £65 per session/ £350 6 sessions.
Chest/Tummy (Female) £70 per session/ £380 6 sessions
Bikini Line £65 per session/ £350 6 sessions
Chest (male) £130 per session/ £740 6 sessions
Back (male) £230 per session/ £1340 6 sessions
Lower Legs £85 per session/ £450 6 sessions
Full leg £100 per session/ £550 6 sessions

Click here for more information on laser hair removal from the NHS website
Carbon (China Doll) Laser Facial

Laser carbon facial is the latest innovative , non- invasive facial treatment for all skin types. With no down time it may deliver immediate results.

Often known as the Hollywood or black faced doll facial, and may create a porcelain doll complexion. One of the most advanced treatments for minor skin imperfections. The carbon laser facial may help to improve the appearance of fine lines and wrinkles, including cross feet, help lighten dark spots, fade freckles and remove blackheads and acne. It may also help to lift and tighten the skin, gradually minimises visible pores, improve skin tone and texture and clear dead cells .
Effective on face, hands chest and back.
To achieve desired effect , more than one treatment is advisable .

Face £60 Course of 4 £200.
Back £100 Course of 4 £350.
Chest £80 Course of 4 £280.
*A non refundable deposit will de due when booking your laser treatment . This will be deducted from your treatment balance on the day of your treatment.