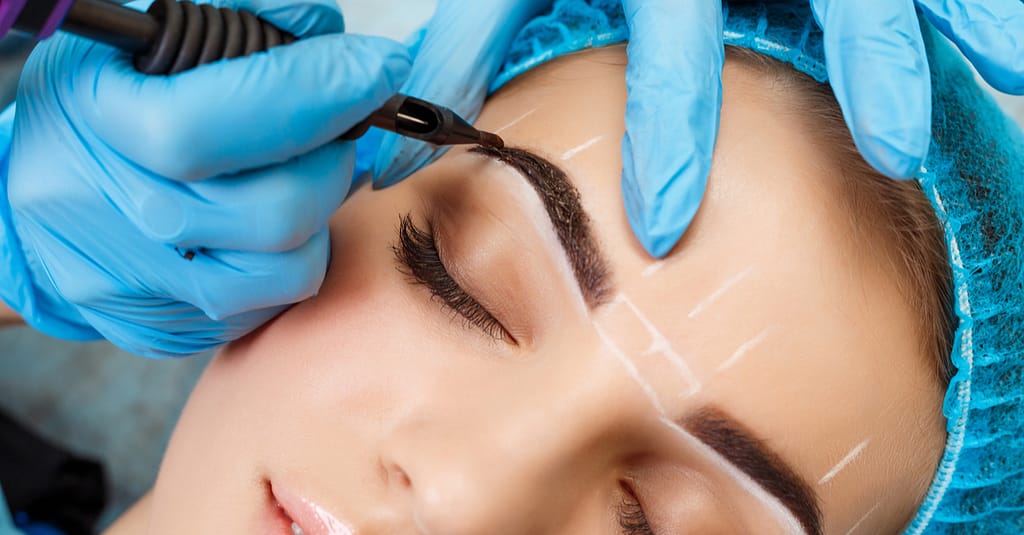 Fed up on spending time filling in your eyebrows each day? Do you have patchy eyebrows where you hair doesn't grow due to being over plucked? You may have a condition that prevents hair growth or just simply want more defined brows. If any of these relate to you, semi permanent eyebrows could be for you.
The Consultation – The first part of the process of getting beautiful brows is a consultation. The consultation is completed as part of your initial treatment as this is where we will discuss in detail what look you are trying to achieve and what I might recommend. We will also carry out your patch test at the consultation .
Treatment – A numbing cream will be applied to your brow area. I will then draw the brows on using a pencil. Now you have as much time as necessary to make any adjustments until you feel happy and comfortable with what your new brows will look like. If I need to re-draw your brows 20 times then that is what I will do to ensure you are happy. I will never begin that tattoo process until you are completely happy. Then, using a facial tattooing machine, I will gently apply pigment to the skin using fine needles. You will feel the vibrations but you should not feel any discomfort. You can then relax until your beautiful brows are finished.
After your treatment – Expect your new brows to look 20-40% darker than the colour you chose on the consultation. But don't panic…… they will fade during the the healing process.
During the first 7 days after treatment, your brows will develop a light scabbing which will itch ….. a lot !! But, never pick, scratch or rub the area as this will result in your brows becoming patchy.
7-10 days after your initial treatment, your brow scabbing will flake away. You will notice that the colour under the scabbing will be much lighter, but after all the flaking has gone your colour will start to settle. You may notice some patches but this will be dealt with at your touch up appointment .
Treatment time 2-2.5hrs varies , depending on individual requirements.
Touch up – A follow up appointment is needed 4-8 weeks after your initial treatment. This is included in the cost of your initial treatment. The touch up is usually a 60-75 min appointment too add more pigment to your brow area.
The reason for your touch up is because as your brows heal, some areas may not hold the pigment as much as others and you may notice some patches start to appear. This is completely normal and everyone will heal differently. After your touch up you will now have another 7-10 days of no scratching or picking your brows, but your brows will then look great.
The consultation, treatment and touch up are all included in the initial treatment cost.
Pigment lasts anything from 1-3 years depending greatly on skin type and lifestyle. It is recommended that a colour boost is completed between 18-24 months.
£280 Hair Stroke Brows includes touch up
£280 Combination Brows includes touch up
£250 Powder/ Ombré Brows includes touch up
£150 colour boost within 2 years.
£50 non refundable deposit to secure booking